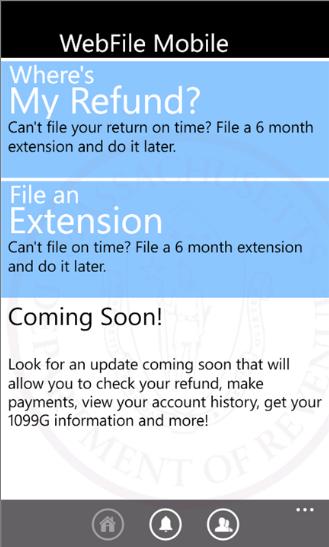 We have seen very few government agency apps on Windows Phone Marketplace. Today Massachusetts Dept of Revenue released its WebFile Mobile app in Windows Phone Marketplace.
WebFile Mobile enables Massachusetts Income Tax filers to use a number of the popular tax-related online services found on the Department of Revenue's WebFile for Income portal.
You can do the following activities using the app,
? Where's My Refund? Check on your state tax refund status and fix issues with your tax return that may be holding up your check or direct deposit
? File an Extension: In the event you need an extension of time to file your return. Make an estimated payment if you owe tax with your extension.
? Alerts: Receive personalized alerts notifying you of your payment status, account activity, and more as well as general updates from the DOR.
Download the free app here from the marketplace. I hope other government agencies in US and other countries around the world will release such apps in Windows Phone Marketplace.