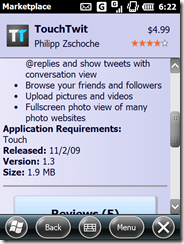 One thing I'm sure many have realised is that connecting to marketplace through WiFi connects you to the US marketplace (on WWE ROMs at least) which in itself isn't that useful. Normally, when you log in with a live ID to download applications/widgets you either stay in the US marketplace till you next connect via cellular connection, or you're reverted to your "home" region.
I recently discovered that if you log in for the first time on a particular Live ID to any market (I tried mainly with the US one, though it worked in a very brief test of a few others) it stores that as the default location for that Live ID, and will let you download applications from that market over any connection (GPRS, WiFi whatever).
So, if you want to be able to get US applications, create a new Live ID and then use something like Chainfires MarketplaceRegionSwitch and log in. Then enjoy downloading what you want!
Or, MS: fix it!!!!
Connecting via ActiveSync/WMDC seemed to break it temporarily, though a reset + reconnect fixed it over WiFi and GPRS/3G