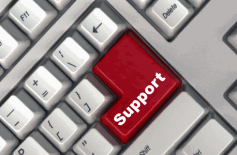 Previously all apps released in Marketplace needed to include contact information for users to request technical support from the developer.
Microsoft has just announced this rule has now been waived, and developers need no longer provide this info.
Steve Bell, a senior product manager for Windows Phone writes:
Standing Exceptions for Windows Phone 7 Application Certification
1) Test Case 5.6 – Technical Support Information. This test case will no longer be enforced during application certification as of 2/21/2011 based on feedback from the developer community. While this test case will no longer be enforced, Microsoft highly recommends that developers include applications technical support information (such as a URL or email address) in their app that is easily discoverable by end-users. Including technical support contact information can provide you with valuable, specific user feedback and will help improve your application feedback ratings and ranking.
If developers have in fact requested this change in the rules, I suspect they will soon find it backfiring, with the review section being littered with questions from unhappy and confused users which could have better been dealt with by email with the developer.  It also removed a level of consistency from the apps in Marketplace, which is unfortunate.