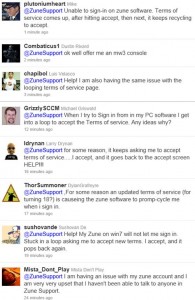 It seems Microsoft's Zune Pass service is having issues, with a rash of users complaining when they try and sign in to the service they get asked to accept Terms of Service, but that accepting the Terms just results in the same ToS popping up again.
Microsoft has a knowledge base article up on the issue, but it dates from September and it is not known if the solutions offered there will be helpful.
Interestingly they note that problems with the clock on the PC may be one of the issues, and one wonders if this is in any way related to daylight savings time, with the clocks recently falling back one hour in the USA.
Are any of our readers affected by this issue, and is there any sure-fire solution? Let us know your experience below.
via WPSauce.com