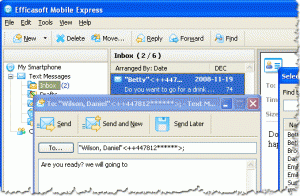 The title to this post sums it up pretty well. Efficasoft Mobile Express is a desktop utility to manage your messages and contacts on your Windows Mobile device.
A great feature of this program is the price: FREE!
Here is a description straight from the source:
Features
Manage Text Message (SMS) Inbox, Outbox, Drafts, Send Items, Deleted Items.
Send, reply and forward text messages directly from desktop PC.
Supports text message delivery notification request.
Export text messages to txt file in chat-history style.
Organize (add, edit, delete, find) phone contacts.
Synchronized text messages automatically – NO NEED TO MANUALLY 'REFRESH'.
New text message arrival tray notification.
Requirements
Windows 2000, XP, 2003 with ActiveSync installed.
Windows Vista with latest version of Device Center installed.
Windows Mobile Smartphone or Pocket PC (2003, 2003 SE, WM5 and WM6).
This program provides a simple, straight forward approach to keep track of all those text messages and contacts on your phone, right from the convenience of your PC.
Go here to download yours absolutely FREE.
If this program was helpful to you, let us know about it in the comments.