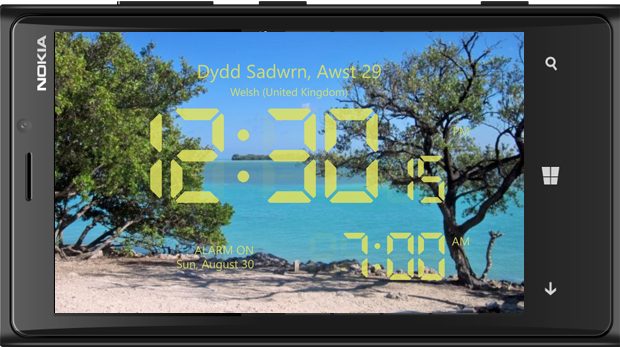 Turn your phone into a desktop LCD clock using your own custom colors and background!
Set alarms for any day in the future or schedule periodic repeating alarms …
Then take a magical mystery tour to see today's date in different world languages or enjoy a slideshow of your favorite phone picture album.
Features:
Alarms are active while phone is locked
Selectable Windows phone alarm sounds
Alarms display user reminder text
Set daily, weekly, monthly, or yearly alarms
Use Windows alarms snooze control
Tap on alarm to toggle on or off
Tap on clock to toggle appbar on or off
24-Hr or AM/PM formats
Automatic night mode option, dimmer control
Manual advance and hide clock slideshow options
Over 70 cultures, Internet time and more…
If you guessed Saturday, August 29, just past Islamorada – you got it right!FileTrak Software's newest app is available in a free ad-supported version.
You can remove the ads with MagicalClock+ listed at $1.29.
Download a trial orfree version today from your Windows phone.
Developer: FileTrak Software