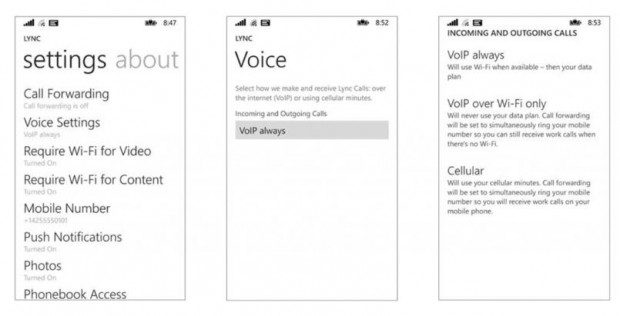 Microsoft recently released an update for Lync app for Windows Phone devices. This update brings in settings dedicated to voice calls, allowing users to know and control which network will be used for phone calls. Previously, you had only two options for voice calls, configured with the "Require Wi-Fi for VoIP" setting. Now there are two Wi-Fi options and added the Cellular option, you have three clearly defined options to choose from, each with its own advantages.
VoIP always—The device will use a Wi-Fi connection, if available, to place the call. If Wi-Fi isn't available, the device will defer to the 3G/4G data plan and the Lync voice calls will be initiated over that connection.
This option is perfect for those of you who always want to have the richest conversation possible, including escalating voice calls to full video and content sharing. 
VoIP over Wi-Fi only—Again, the device will use a Wi-Fi connection, if available, to place the call. If Wi-Fi can't be found, this setting instructs the Lync mobile service to connect you using Call via Work—placing a call to your phone first, then to the destination number.
This option is excellent for those of you who don't want the Lync call to be placed using mobile data, which depending on your service plan could be expensive.
Cellular—The Lync mobile service will directly place a call to your phone number using Call via Work and then complete the call to the destination.
This option is the most reliable way to ensure that calls using Lync mobile don't connect using your data plan and will be consistent when moving between networks. At the same time, it disables video and content for the call.
You can download the client in the Windows Phone Store here.
Read more about it at Office blogs.