Bellperre is a luxury phone maker that has high price, high class phones and now they're adding a WM phone to their list. This small company recently announced the addition of a Windows Mobile powered handcrafted wood phone. This device is made for the rich people that want style and would give up features to achieve it. The phone comes in Walnut, Elm, Zebrano or Wenge wood flavors, But that is not all it can have. This phone can also be customized with (Steel, Yellow Gold, Rosé Gold and Platinum).They do not stop there, they also offer 110 types of genuine exotic leather for example; shark, lizard, alligator or buffalo.  This phone is certainly high class, now the spec's are a little sad—You might die a little inside—.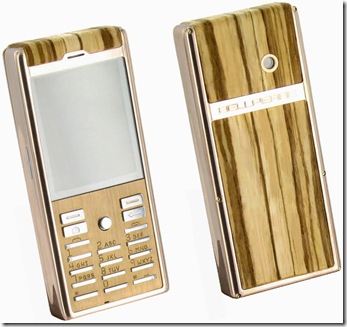 The spec for this phone is as short as my phones life time.
The Bellperre phones offer tri-band GSM connectivity 900/1800/1900, a 2 inch Sapphire Crystal scratch-resistant display, stereo Bluetooth, email and a version of Windows Mobile.
The Price was not mentioned, but I put my bet on over $1000.
Head over to Unwired View for more details