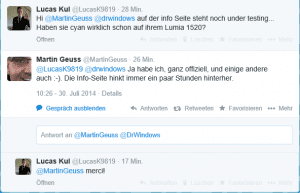 Even though the info page does not say so yet, the Lumia Cyan update is now available for the Nokia Lumia 1520 in Germany, according to Dr. Windows Martin Geuss on Twitter and his website.
I am yet to verify this – since I am on the developer preview I need to downgrade my phone first – and will update this article when I know more. (EDIT: Downloading Cyan on my Lumia 1520 right now)
The Lumia Cyan update brings all the Windows Phone 8.1 features to the Lumia 1520 together with a new firmware . This means features like a start screen background, a notification center, improved UI rendering and an improved photo algorithm are finally coming to the biggest Windows Phone device to date and the update also includes support for Dolby Digital audio recording or Motion Sense.
Have any of our readers gotten an update notification, maybe even on other phones than the Lumia 1520 or in other regions? Let us know below.