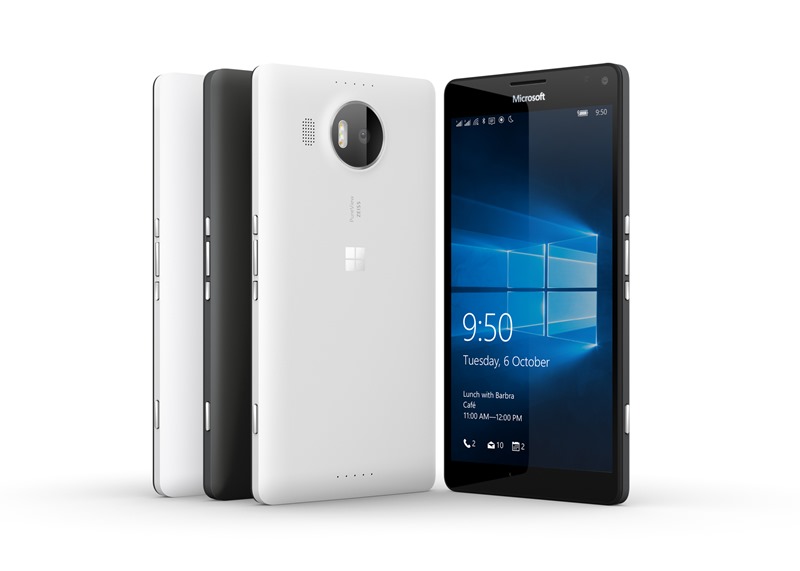 At Microsoft's Insider event I was lucky enough to get my hands on a Lumia 950 XL and complimentary display dock. We did a quick AMA session for the 950, and today I'm answering questions posed about the 950 XL.
My impressions about the 950 XL? It's really thin and lightweight. The design is clearly based on the design started by the 630 up to the 640/540. However, it looks nice and understated. The polycarbonate is sturdy and can take a bit of damage, I can see myself using this device for more than a year.
The weak point of all this is software however. Windows 10 Mobile for the 950 XL is the exact same as you would get in the insider preview, and the exact same version that will start rolling out in a week or two to the existing Lumia family. Continuum is impressive, and I can see it being quite useful. At home I rarely need a bigger screen than my Surface, but I'd also prefer to use my the apps on my phone on a bigger screen. Groove Music in particular is a lot better looking on Windows 10 Mobile continuum than Windows 10 desktop.
Windows Hello is finicky at best. Sometimes it works, other times it doesn't. It always seems to work best when I'm trying not to use it ironically enough. I've heard that upcoming updates will improve speed and reliability, and I hope so. Its a really nice feature and is impressive when it works.
That being said, I'll answer more questions in the comments below, but I think these questions generally cover most of what people are curious about.
---
My wife and I have two Msft accounts. She's listed as an adult under my 'family'. How can I install apps on her phone that I've purchased?
You can't. Apps and games are licensed to the Microsoft account which purchased them and can only be shared between devices signed into that account. You can request this feature to be added using the feedback app though
Does it get hot like Lumia 930?
Fortunately, it does not. The Lumia 930 would heat up substantially anytime it was used for any length of time, the 950 XL only got slightly warm during set-up and verged on hot during extreme use of Continuum (Edge with The Verge and Windows central open), MyTube streaming HD video etc.
In notification center, are the mails grouped per account (e.g. Yahoo, Corporate etc.) or all under Outlook group? And when I dismiss notifications (mail or call or SMS etc) from notification center do the notification icons disappear from lock and glance screen? Or remain there until you actually read the notifications?
To the first question, email accounts are not grouped per account in my current set-up. They are all bundled together and you have no way of knowing which email is for which unless you check the notification yourself.
To the next question the notifications remain on the live tiles until they are read, regardless of whether you dismiss them from the action center or not. The reason for this is two-fold, first of all, the reason it worked in Windows Phone 8.1 and not in 10 is that the apps which behaved like this were built-in system apps. They had different advantages and privileges to regular store apps which have the same limitations you point out in Windows 10 Mobile. As Microsoft moved their apps to the regular store platform, they had no choice but to also be constrained by limitations placed on third-party developers.
The second reason is a quirk in how notifications are conceptualized. Consider, if you receive a toast notification and you dismiss the toast, would ou expect the notification to vanish? That would be jarring and poor UX. The action center can be seen as a repository of toasts you have received, and behaves as such. User wise, some people may dismiss a notification from the action center and still wish to be reminded of it by live tile.
I want to know if i can disable the second sim icon that appears in the notification bar, and if the Lumia 950 XL really have 4 microphones for audio recording?
You may not disable the second sim icon, it is a part of the system UX for dual sim devices. You can petition Microsoft in the feedback app to include that feature in future flights though.
The Lumia 950 XL is capable of "Lumia Rich Recording with four microphones"
I would like to know when they are going to send out the first update.
In the coming weeks.
Why do we say 20 MP camera, isn't it 15?
No, it is a 20 megapixel camera. For 16:9 pictures it captures the images at 16 MP, for 4:3 it gets a lot closer to its native resolution. For the record, all smartphone cameras do this.
What I want to know can more than one person unlock the phone using windows hello? Like on iPhones where the fingerprint scanner can save another persons finger to unlock it? Please I have not seen or heard anything about this.
Not even identical twins.
Does the surface pen work on it? Can you draw with it?
The Surface pen requires hardware that is present in the Surface itself, it can not work on any other device lacking this hardware.
Why would anyone buy the 950 or 950XL when Microsoft just announced that the Surface Phone is coming in H2 2016?
Why would anyone buy the (as yet unannounced) Device X when device X2 is coming out next year. A bird in hand…
Can you give examples of use cases for which the bigger screen of the XL is an actual advantage compared to standard sized phones, which already have rather big screens these days?
Everything. Media, reading books, browsing the web, responding to AMAs, writing notes. It's also worth noting that the Lumia 950 XL is significantly smaller than the Lumia 640 XL, which itself is smaller than the iPhone 6S+.
Don't you think it looks cheap? You can't even tell it apart from the 640 XL.
It would be impossible to tell a 950 XL from a 640 XL if the 640 XL was essentially smaller, thinner, lighter and shaped differently with a different design anc camera. In short, it looks nothing like a 640 XL in real life
Every question about loading and resuming
It is fast and smooth. I have seen resuming or loading once ror twice, in the usual suspects. But, unlike the older models, there is virtually no lag