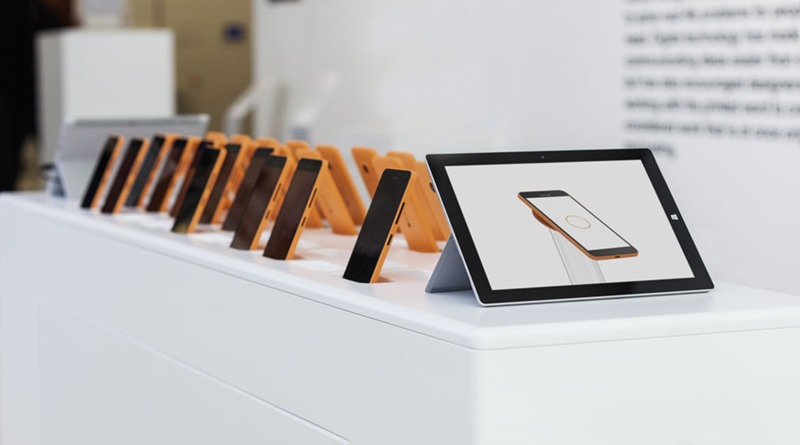 On their blog Microsoft has revealed that their devices and services will be playing a central role in injecting interactivity into the Design of the Year Award 2015 event, hosted by the Design Museum in London.
The exhibits showing the entrants will be powered by Lumia 640 XL and Microsoft Surface and monitored via Azure, and Power BI.
The handsets will let users take a walk around the Designs of the Year 2015 exhibit in the Design Museum and see winning designs from categories including architecture, product, digital, graphics, fashion and transport. The exhibit includes a carefully curated selection of nominees and winners, with additional information available via a large white table fitted with 40 Lumia 640 XLs flanked on either end with Surface tablets (above).
The exhibits are NFC enabled, with additional information and interactivity available via a special app on the handsets.
Visitors are invited to "join the debate" by answering questions and giving their opinion of each design. In addition, they're given feedback as to how many people agreed with their opinion.
"A digital experience is a great way for us to share the wealth of information about our exhibits that we cannot usually display due to space limitations," said Curator Gemma Curtin. "We are also excited that we can encourage a new level of debate with our visitors, understanding their opinions and the level of engagement they have with our exhibits"
The data collected via the use of the devices also gives the Design Museum insight into which exhibitions attracted most interest, and provide direct feedback on visitor satisfaction.
The exhibition is running from the 17th September and will end of March, 2016.
See a video showing of the features below:
[youtube=https://www.youtube.com/watch?v=o7_SbTd82KQ]
[source link="https://blogs.windows.com/devices/2015/09/30/microsoft-and-the-design-museum-take-you-inside-the-designs/"]Microsoft.com[/source]