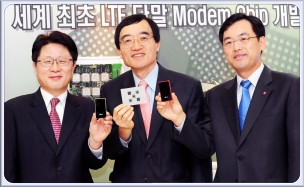 LG has demoed the first handset running the new LTE 4G network standard. The handset uses their new modem chip which can theoretically support wireless download speeds of 100Mbps (megabits per second) and upload speeds of 50Mbps.
LG demonstrated the chip at its Mobile Communication Technology Research Lab in Anyang, Korea, and achieved real speeds of 60 Mbps down and of 20 Mbps up. HSDPA currently only has a maximum download speed of 7.6 Mbps. With LTE a 700 MB movie file can be downloaded in less than one minute at speeds of 100 Mbps. LTE technology would also allow consumers to simultaneously stream four HD movies without any buffering. For its demonstration today, LG used a test terminal running Windows Mobile to play back high quality, on-demand video.
"Now that LG has developed and tested the first 4G handset modem, a commercially viable LTE handset is on the horizon," said Dr. Woo Hyun Paik, CTO of LG Electronics. "This latest breakthrough gives us a strong technology advantage that we will use to bolster our industry leadership."
Dr. Paik added, "Our successful development of this LTE handset modem signals the start of the 4G mobile communications market. LG will continue to advance this technology and develop further technologies to maintain global leadership."
Mobile phone carriers have now built LTE test networks and are currently working on early stage handsets. The first LTE mobile phones will likely reach the market in 2010.
With the first commercial WIMAX handset featuring Windows Mobile, it is a good bet the first LTE handset would run the same OS.
Read more at the Korean Newswire.