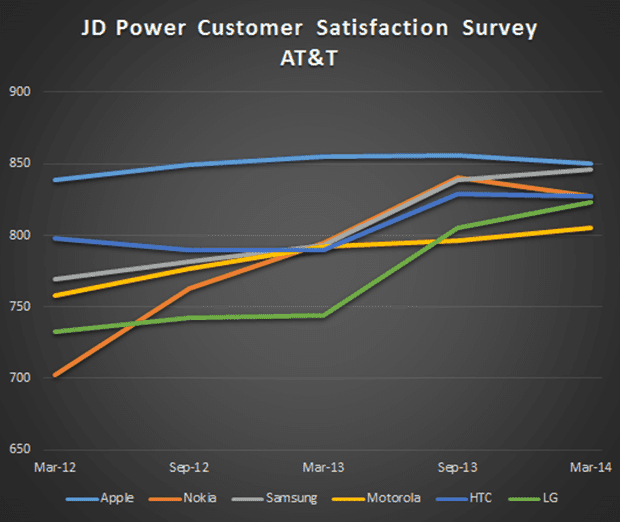 JD Power have posted their bi-annual customer satisfaction survey of US smartphone customers by carrier.
OEM
Mar-12
Sep-12
Mar-13
Sep-13
Mar-14
Apple
839
849
855

                      

856

                      

850
Nokia
702
763
795

                      

840

                      

827
Samsung
769
782
793

                      

839

                      

846
Motorola
758
777
792

                      

796

                      

805
HTC
798
790
790

                      

829

                      

827
LG
733
742
744

                      

805

                      

823
Blackberry
733
740
732

                      

778

                       

841
For the first time in two years it shows Nokia's numbers dipping after a dramatic rise as Windows Phones replace Symbian handsets.
The drop, which saw Nokia move from the second to second last spot, is likely due to the rise of low-end handsets such as the Nokia Lumia 520.
According to JD Power price of handsets have become increasingly important in choosing devices, rising from 13% to 21% over the last 3 years, and the importance of features has reduced from 57% to 35%, selecting a smartphone device based on price generates significantly lower levels of satisfaction (808 on a 1,000-point scale) and repurchase rates (18%) than selections based on product-specific reasons such as operating system (860 and 35%, respectively).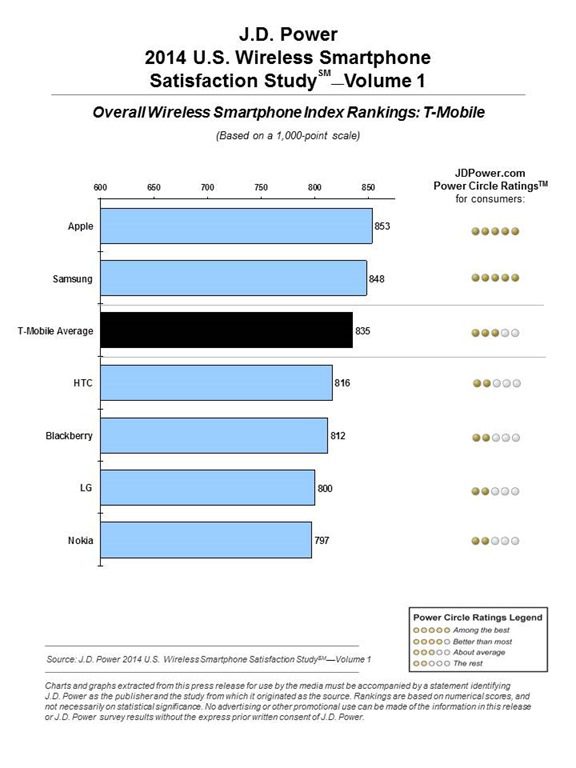 Consistent with this Nokia (and by extension Windows Phone) scored the lowest on T-Mobile, the carrier almost synonymous with the Nokia Lumia 521.
When asked which features they would like on their next device, smartphone owners most often cite seamless voice control (36%); built-in sensors that can gauge temperature, lighting, noise and moods to customize settings to the environment (35%); and facial recognition and biometric security (28%).
It appears the focus on price and the volume it generates can be a trap for OEMs like Nokia, who may create a large mass of customers that are not very satisfied or very loyal, and suggests continuing to strip features of their low-end handsets may not be a sustainable strategy.
Do our readers agree? Let us know below.