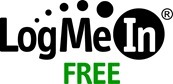 One of the best remote desktop apps for Windows is coming to Windows phone 7. LogMeIn is famous not only for its ease of use, but also for its great performance even with poor bandwidth.
It will therefore be welcome news to anyone who currently have LogMeIn installed on their desktop that the software is coming to Windows phone 7 also.
Reader Vincent has written to the company enquiring about support and received this encouraging reply.
Hello,

Thank you for contacting LogMeIn.

This is in development. I just can't give you a specific time frame as to when this will be available.

Kind Regards,

Kate Williams | Sales Representative
As the reply notes, no specific time frame for the release is promised, but hopefully the ease of development on Windows phone 7 will mean sooner rather than later.
Thanks Vincent for the tip.