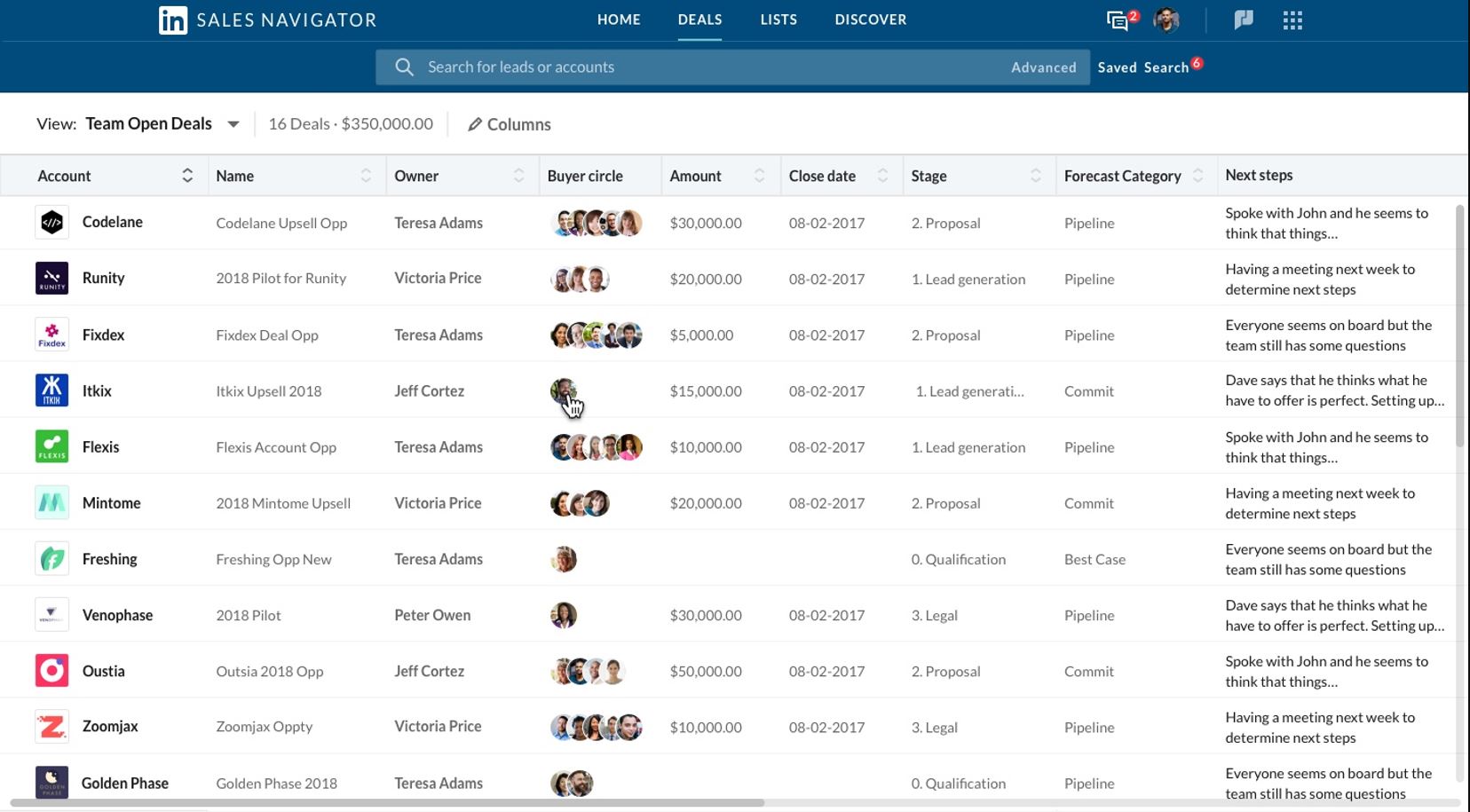 LinkedIn Sales Navigator is gaining a lot of momentum in the last few years and in fact more than 80% of the Forbes Cloud 100 is now using it to meet their revenue goals. LinkedIn today announced a number of updates for Sales Navigator including brand new features like Deals and Buyer's Circle. Read about the new features and updates below.
Deals: It is a new feature in Sales Navigator that gives managers and reps a more effective way to understand and manage pipeline. Deals pulls pipeline data from your CRM and displays it in a simple-to-use web interface. Instead of jumping in and out of each opportunity screen in CRM, you can edit information for your entire pipeline on a single page, including deal size, stage, close date, next steps and more, with all changes automatically written back to CRM. Reps can now update their entire pipeline in minutes, not hours.
Buyer's Circle: Buyer's Circle pulls and displays the opportunity role information from your CRM, like decision maker, influencer, evaluator, etc. so you know if any key players are missing from the deal. Buyer's Circle makes it easy to select anyone on LinkedIn and drag them to a role, which, again, automatically updates your CRM. And if that contact is not already in your CRM, Deals lets you create a new CRM contact associated with that opportunity in just a few clicks.
Outlook integration: Now you can take Sales Navigator actions and see key insights without ever leaving your Outlook for Web Inbox. Once you authenticate your Office 365 and Sales Navigator accounts, you can mouse over any email address and access features like viewing profile information, saving a lead, sending a LinkedIn connection request, or viewing TeamLink connections. You can also see "icebreakers" —  the things you have in common — to help you personalize your message.
Revamped search experience: LinkedIn team has made Account Search and Lead Search more prominent, streamlined search filters, and made it easier to save searches, so you can get alerts any time a person or company on LinkedIn matches your search criteria. They have also added company hover cards, which gives you a quick overview of any company mentioned on a search results page by mousing over the company name, and even lets you save those company details without leaving the page.
Learn more about these updates from the source link below.
Source: LinkedIn