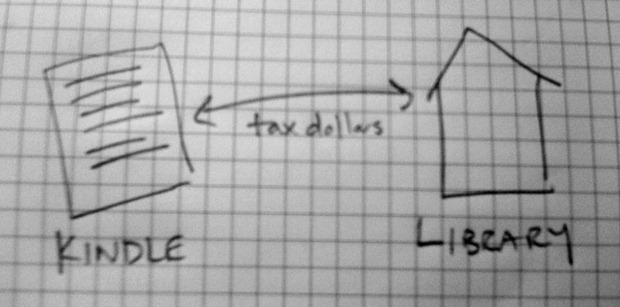 Amazon today announced Kindle Library Lending, a new feature launching later this year that will allow Kindle customers to borrow Kindle books from over 11,000 libraries in the United States. Kindle Library Lending will be available for all generations of Kindle devices and free Kindle reading apps.
Customers will be able to check out a Kindle book from their local library and start reading on any Kindle device or free Kindle app for Android, iPad, iPod touch, iPhone, PC, Mac, BlackBerry, or Windows Phone. If a Kindle book is checked out again or that book is purchased from Amazon, all of a customer's annotations and bookmarks will be preserved.
"We're doing a little something extra here," said Jay Marine, Director, Amazon Kindle. "Normally, making margin notes in library books is a big no-no. But we're extending our Whispersync technology so that you can highlight and add margin notes to Kindle books you check out from your local library. Your notes will not show up when the next patron checks out the book. But if you check out the book again, or subsequently buy it, your notes will be there just as you left them, perfectly Whispersynced."
Amazon is working with OverDrive, the leading provider of digital content solutions for over 11,000 public and educational libraries in the United States, to bring a seamless library borrowing experience to Kindle customers.
"We are excited to be working with Amazon to offer Kindle Library Lending to the millions of customers who read on Kindle and Kindle apps," said Steve Potash, CEO, OverDrive. "We hear librarians and patrons rave about Kindle, so we are thrilled that we can be part of bringing library books to the unparalleled experience of reading on Kindle."
The service is US only.
Kindle Library Lending will be available later this year for Kindle and free Kindle app users.