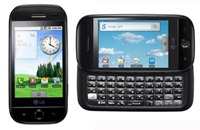 A high-placed LG official has told MK Business News that the company had every confidence in Windows Phone 7.
According to him  Windows Phone 7 will soon outperform Apple's iPhone and the Google phone to emerge as a new class of smartphone.  The company intends to be the first to market with a Windows Phone 7 device in October, with two types of smart phones in the European market in October, and has plans to enter the US market (AT&T or Verizon) in November. These products will come to South Korea by the first quarter of 2011.
The smartphones destined for Europe are 3.8-inch full-touch devices, while the American devices have the same sized screens but QWERTY keyboards preferred there. The devices will be part of the cross-platform Optimus series (pictured above).
Read the full article at MK Business News here.
Via Whathifi.com and WMExperts.com