PhoneScoop has been giving the LG eXpo a good going over and has published their review.
They note it felt weighty and solid, complained of the screen being resistive, and were mildly impressed by the fingerprint sensor, which also worked as a D-pad. 
Unusually the sensor does not just unlock the phone, but can also be used to control access to other applications on the phone, e.g. the SMS or e-mail application. 
The complained the side-mounted buttons were hard to find and rightfully lamented the lack of a standard charging port or headphone jack.
PhoneScoop called the keyboard "fantastic", well spaced and with excellent travel and feedback. 
Regarding the user interface, it appears to be mostly stock Windows Mobile 6.5, with LG's UI work being an optional extra.  The phone was however still felt to be more usable that the last LG device in USA, the LG Incite.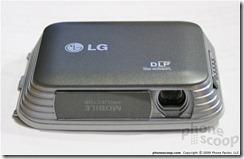 Turning to the projector, which they call a "neat accessory", they note it was large but battery friendly and projected what was on the screen.  They noted it was not what they called "super bright" but even in a well-lit environment they were able to make out everything it projected.  The projector is capable of a 40 inch image at 8 feet. 
Read PhoneScoop's  full take on the device here.