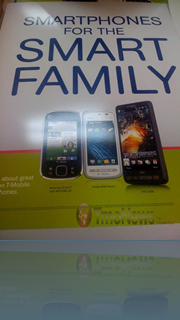 Well guys, it is about time for T-mobile to begin advertising their newest and greatest smart phone. The HD2 is getting ready for its debut, and it seems T-mobile has the ads and banners all ready.
This ads is just phase one, I am expecting TV ads, Internet ads, Paper ads, Store ads and the whole 5 years. I am also expecting a anti Iphone video campaign like the Droid did, and succeeded in. 
This device could be a real big hit if T-mobile and HTC spend some time properly advertise their newest product. The ad campaign HTC has pushed before in the US of A, shows a lack of a good marketing department. They can easily make or break T-mobile USA schemes which might cost them a potentially big time phones sales.
HTC can even go to sleep at night knowing that the US of A general public might and will not know about WP7S and how the HD2 will not be getting the update. I think that alone could have the potential of dropping sales by 10%, but not more than did, due to the quality of the phone and the lack of WP7S information in the world.
Via:TmoNews