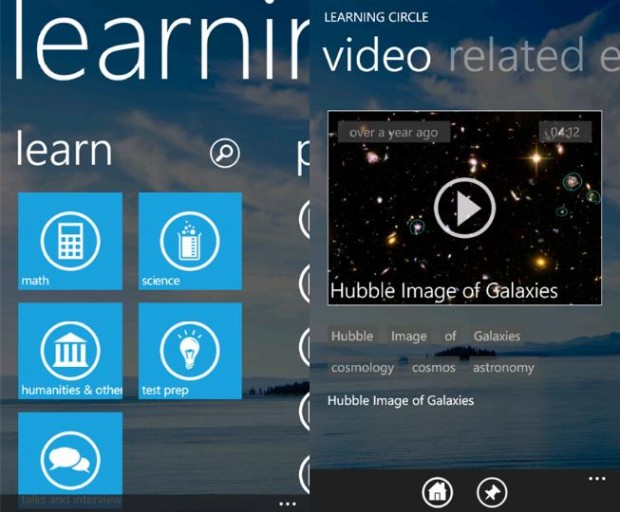 Khan Academy is a not-for-profit organization with the goal of changing education for the better by providing a free world-class education to anyone anywhere. They create quality educational content and release it on the web for free and now you can access the Khan Academy videos from Windows Phone. Learning Circle allows you to browse and watch the whole collection in HD. Its a great tool for students and scholars.
App Description:
 Learning circle is a feature rich and beautifully designed Khan Academy client for Windows Phone. It allows you to browse the whole collection, watch videos in HD and show personalized achievements.

Key Features:
1. Browse through the collection organized into subject hierarchies and playlists or using search feature.
2. Watch videos in HD without leaving the app.
3. Sign-in using your Khan Academy account to display your badges and achievements on the phone.
4. Pin any subject, playlist, video or badges to start screen for easy access.
5. Get list of suggested exercises once you sign-in.

More features are coming in next version. Please suggest features you'd want to see from the about page.
Download it here from the marketplace.