The RedDot design website has leaked another new PC design.
The device is a hybrid of a kitchen PC and laptop/tablet with a 17.3 inch screen and is designed for family living that, as can be seen in the image above, can convert from an easel-type work surface to a stand-alone screen and a final transformation which would allow it to be hung up from the wall by its integrated handle.
RedDot writes:
YOGA Home 310 is a creative and convertible device which positions consumer market and aims to extend the desktop scenarios in family while creating a better user experience at the same time. It is an ultra thin and light portable AIO that can be moved anywhere and anytime at home and help you deal with daily light task easily. Thanks to the unique multi-mode design, YOGA Home 310 can do more than traditional PC and tablet. You can hang it on the wall to play a video or just make it stand on the table to show a recipe when cooking in the kitchen. Of course, you can also share photos with your families and play games with your friends using its flat mode. Lenovo?s AURA platform, a unique UI system will function as a multi-media hub and encourages consumer to interact, enjoy and communicate, plus the 17.3 inch big screen will make this experience better than better. The tilt mode will provide you a more comfortable angle for touching and drawing. Perfect voice control is another killer feature of YOGA Home 310. It is equipped with Microsoft?s ?Cortana Premium? which will provide a more natural and efficient interaction way even though in the noisy kitchen.
The device will feature Lenovo's AURA user interface.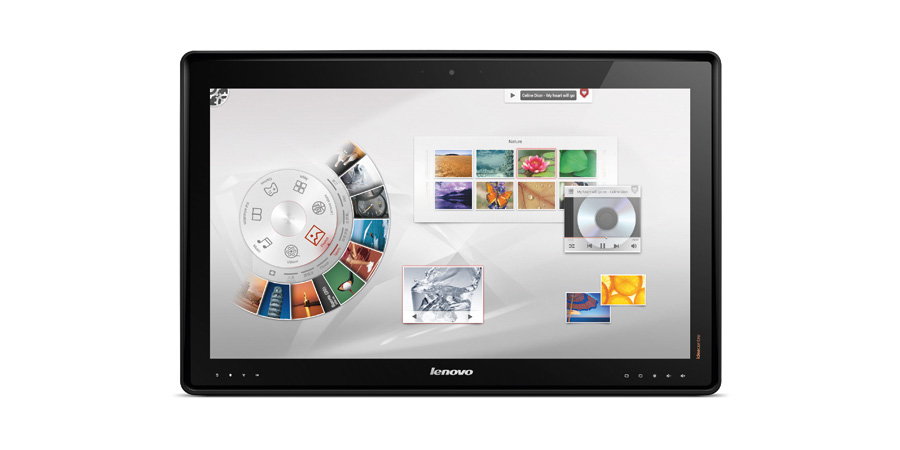 With AURA two or more people can simultaneously access content via its unique user interface. Aura makes the PC a social device, bringing users together around a single screen to enjoy fun multi-user apps and multimedia. The interface had debuted earlier on the Lenovo HORIZON 2e.
The device will likely come at a premium price, which is somewhat of a pity given the inherent less value consumers place on less personal PCs which are designed to be used by the whole family.
What do our readers think of this device? Let us know below.
Source: Red Dot 2016