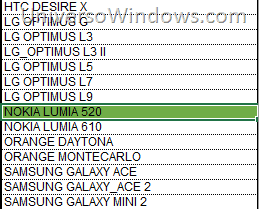 UniversoWindows.com reports that a leaked screen shot from Orange's internal systems means that the Nokia Lumia 520 will be coming to the carrier soon.
The Nokia Lumia 520 is one of the cheapest Windows Phones, an important property in the economically ravaged country, and Orange in Spain is the last operator to still offer subsidies for their phones.  This suggests the handset may be available for free on Orange's cheapest smartphone tariff – the Dolphin 20, which offers 200 MB per month for only 20 Euro.
Due to the economic crisis cheap Android phones have overtaken the market there, taking more than 90% of all smartphone sales in Q1 2013. The arrival of a cheap Windows Phone alternative may mean Windows Phone can recover from its current miniscule 1.3% market share there.
The handset is expected to hit the market in May.
Read more at UniversoWindows.com.