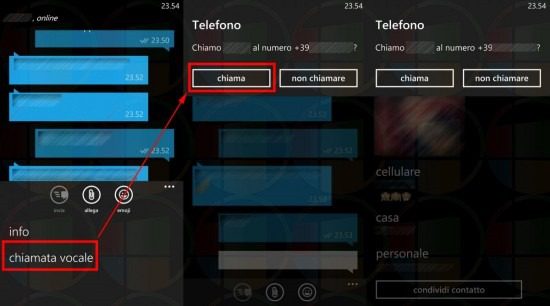 Some more info has leaked from the latest WhatsApp beta versions currently in testing.
The latest new feature, clearly for those who live in the messaging app, is the ability to initiate normal (not VOIP) calls directly from the interface, which makes it somewhat more spontaneous to turn a text conversation into a voice one.
While this new function is not major a feature, the sum of all the new improvements to the client will make the new version when released a major update.
These include:
A proper background agent independent of the music player
Support to the zooming of images
Optimization of the notification system of messages and the app Fast Resume
Adding new emoticons
Forwarding audio and video files received from other contacts
Removing files received
Showing smiles in Tile
The WhatsApp messaging service recently celebrated 200 million users and sending 20 billion messages per day, and it is really good news to see them continue polishing their Windows Phone app.
Via Windowsteca.net