Microsoft today released Windows 10 Build 17074 for PC to Windows Insiders in the Fast ring and Skip Ahead ring. This build comes with a major update to Microsoft Edge web browser. The reading experience on Edge has just got a whole lot better with Fluent Design UI and more. Another major feature in this release is the auto filling of card information in websites. The new feature I'm excited about is the support for extensions in InPrivate mode.
Find the full change log below.
Hub improvements: We've revamped the Hub view in Microsoft Edge to show more content and to be easier and more intuitive to use. You'll now find the different Hub sections listed with the full name visible in the Navigation view to the left of the content. This view can be collapsed to show icons only if you prefer to save space.
Autofill cards on web forms: Microsoft Edge can now save and automatically fill your card information on payment web forms. On submission of a form with card information, Microsoft Edge will prompt you to save card information. In the future, you can simply select the preferred card from a drop-down menu to autofill necessary fields. Microsoft Edge securely saves your card information. CVV information is never saved. All cards linked to your Microsoft Account are also made available for automatically filling card information.
New reading experience for EPUB, PDF, and Reading View: We've overhauled the look and feel of the reading and Books experiences in Microsoft Edge, bringing a new, consistent, more powerful experience across all your documents, whether they're EPUB or PDF books, documents, or web pages in Reading View.
In Books, we've added a new pop-over menu for "Notes," making it a snap to navigate between annotations, notes, or highlights. We've also updated the Seek bar, so you can scrub through your document more easily, including Go-to-page (Ctrl-G) to find a specific page in the document. Go-to-page supports PDF Page Labels or EPUB Page List, so the page numbers can correspond to a print source that may be numbered differently.
Grammar Tools for EPUB books and Reading View: When viewing reflowable EPUB books or Reading View for websites, you can now use the new Grammar Tools button to enable new comprehension aids. Grammar Tools can break the words on the page into syllables, as well as highlight different parts of speech such as nouns, verbs, and adjectives.
New Full-screen reading experience: You can now take Books, PDFs, and Reading View pages full-screen, for a distraction-free reading experience.
Improved roaming for progress and notes across devices: For Store books, reading progress, notes, bookmarks, and annotations will roamed much faster across devices on the same account in near-real-time via WNS.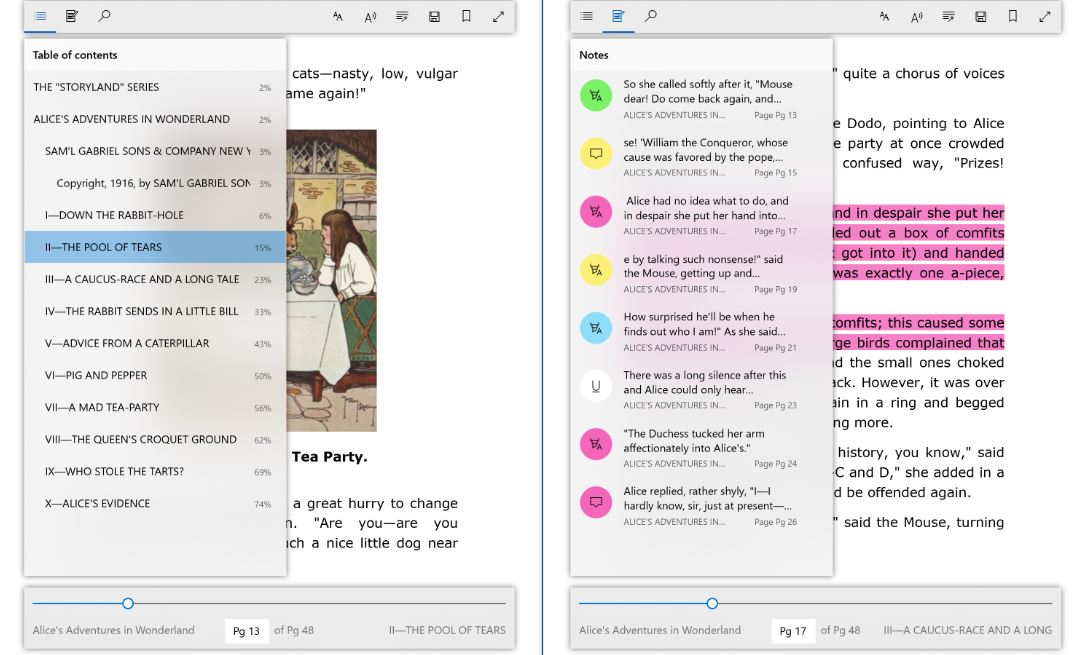 General Improvements: We've made many improvements to fixed layout EPUB books, so content should be arranged more predictably on the page. Users of assistive technology will also find several improvements to viewing PDFs or Books with a screen reader, including more explicit narration when opening, loading, and navigating books.
Improved Library experience: We've built on the library improvements in Build 17035 with new changes in response to your feedback. Now, in addition to refreshing your library or pinning books to your Start menu, you can see recommendations for new books (when your library is empty) or filter expired rentals from the current library view. When you're reading a book, we now show a Books icon and the title, rather than the URI, for a clearer and less cluttered presentation.
Audio Narrated Books: We've added support for EPUB Media Overlays, enabling support for a tailored narration experience, including custom audio and highlight styles. On supported books, you can now hear the book read aloud with custom narration, with the publisher's chosen style applied to the highlight as the book is read. We've also made accessibility improvements when using Narrator to browse, search, or load a book.
Favorites bar improvements: The Favorites Bar will now automatically show on Start and New tab pages, if you have at least one favorite in it. When you navigate, the Favorites Bar will automatically hide to give you the most space for browsing. You may still choose to always show the favorites bar if you wish, via a context menu on the favorites bar "Show bar", or via settings "Show the favorites bar". The Favorites bar also now supports hiding names for individual favorite bar items, instead of having to either hide none or all names.
Option to never save passwords for domains: One of the top pieces of Windows Insider feedback was to provide an option to never save password for certain sites. When you choose to never save passwords, you shall never be prompted with a save password notification for that site.
Autofill passwords when InPrivate: Microsoft Edge now supports auto-filling of saved passwords when browsing InPrivate. To view list of available credentials for a site, click on the username field and it would populate all saved credentials for the website. No user credentials will be saved or updated when the windows is InPrivate.
Use Extensions when InPrivate: We've heard your feedback and have added the ability to load extensions when Microsoft Edge is in an InPrivate window. You can grant individual extensions permission to run in InPrivate from the options menu for the extension. We're working with extension developers to enable more features when InPrivate.
Variable Fonts: Microsoft Edge now supports CSS extensions for OpenType Font Variations, which allows single "variable" font files to behave like multiple fonts, with a range of weight, width, or other attributes. You can see examples of variable fonts in practice at the Axis-Praxis Playground in Microsoft Edge.
Vertically dock the Microsoft Edge DevTools: The Microsoft Edge DevTools can now be docked vertically, fulfilling a a top web developer feature request. Click the new "Dock Right" button in the top-right corner of the tools to toggle the location. In a future update, we plan to improve the UI and flow of DevTools content when docked vertically.
Source: Microsoft