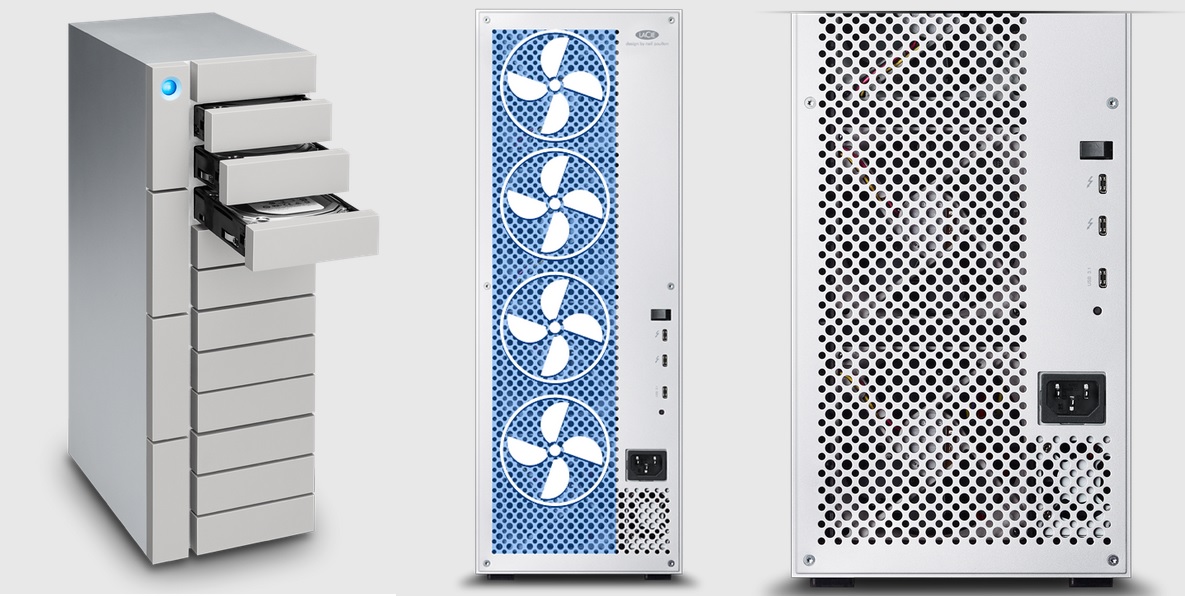 At the National Association of Broadcasters 2016 conference today, LaCie announced the LaCie 12big Thunderbolt 3, a 12-bay desktop RAID storage unit. You can get this unit with up to 96TB of capacity, a 50 percent higher capacity than any other desktop direct attached storage solution on the market. It is not just the capacity, LaCie added a hardware RAID controller and 7200RPM drives, and the result is record-breaking speeds of up to 2600MB/s—and 2400MB/s in RAID 5. With double the video bandwidth of its predecessor, Thunderbolt 3 lets the user daisy chain dual 4K displays or a single 5K display to the LaCie 12big.
From the front of the product, drive status LEDs keep track of drive health and RAID build status, and drives can be conveniently accessed. Ensuring long-term component health, the aluminum enclosure dissipates heat efficiently and four thermoregulated fans pull heat away from the drives. And even if a fan fails, the product is still fully functional. For universal compatibility, users can connect to USB-C laptops—and even USB 3.0 computers via the included USB-C to USB-A cable.
The LaCie 12big will be available this summer in 48TB, 72TB and 96TB capacities through the LaCie online store and LaCie resellers. To use this unit, your Windows PC should have a USB-C (Thunderbolt 3 or USB 3.1) or USB Type-A port and Windows 8 and later OS.