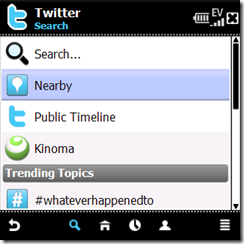 Last week we posted on a mysterious new version of Kinoma Play. At the time no change log was revealed, leaving us puzzled to exactly what was updated.
Kinoma has now come clean, and revealed some pretty interesting improvements to their twitter application.
The first is an update to their twitter app making it now location-aware. Using either GPS or a location you set yourself, you can now see who is twittering around you.
Next is a better integration between twitter and their built-in apps, such that links from the twitter app that leads to Youtube or Flickr will now open in the built-in apps, rather than the web browser.
The Start app has now also been updated with separate tabs for Applications and Settings, making it easier to find and launch both.
Other fixes and improvements
Flights time zone conversions are now more reliable.
Improved behaviour in low memory situations.
Better error handling.
Thumbnails now appear faster and look a little better.
Read more at Kinoma's blog here.
The media player is available from our software store here.
Via WMExperts.com