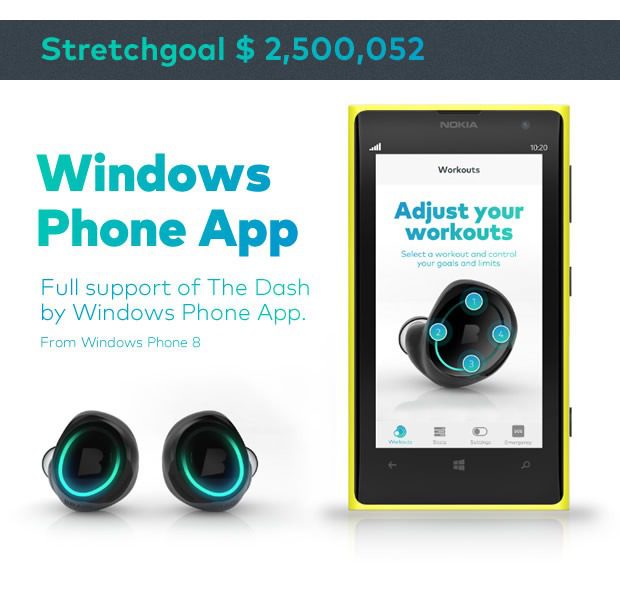 Munich company Braggi LLC are developing a unique wireless Bluetooth headphone which are not only truly wireless (ie both earphones are independent) but also smart – they have multiple sensors including an accelerometer, pulse oximiter, external and bone-conduction microphone and capacitive buttons, and also 4 GB storage for playing music independent of your phone.
The gadget also has an open API and a 32 bit ARM processor, and promises to be much more than a health and fitness and entertainment gadget.
After raising 7 times more than their $260,000 goal on kickstarter they have introduced a new stretch goal – support for Windows Phone with a native app.
That goal is about $700,000 dollars away, and the best tier is currently for $199, which will also net you a Dash for $100 less than the suggested retail price.
At present production is planned for November.
Update: The team has now reached their goal, with the count now at $2,538,421!  This means we can expect native Windows Phone support some times after launch.  They have now announced an additional $3,333,333 with a new white edition, a leash and an exclusive color.  With more than 27 days to raise more funds it is likely they will be hitting the same gaol again.
See the presentation for the gadget after the break.
The earphones will offer around 3-4 hours battery life, with a charging case being able to recharge the earphones in about an hour.
Pledge your support at Kickstarter here.