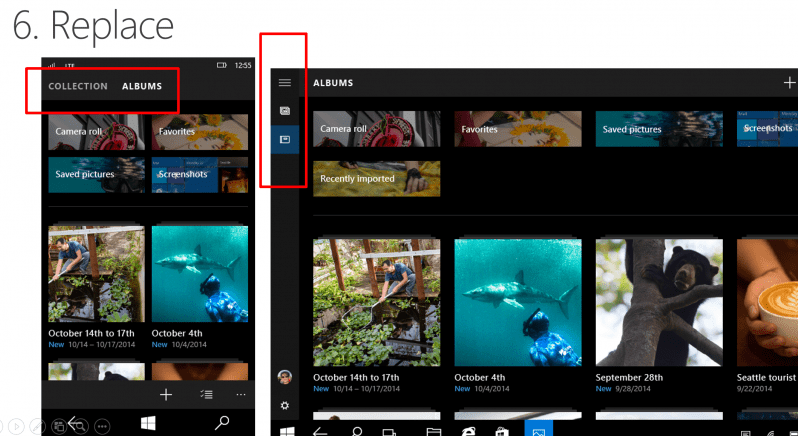 The Windows Mobile UI has elicited a lot of feedback and concern from users in the past few weeks. While Microsoft has remained mum on this matter for a while, Albert Shum has finally shared his thoughts on the hamburger menu, pivots and circles vs squares.
Check out some choice quotes below for the gist of it and read the source link for the article in full.
On the Hamburger– "As with all UX design, it's not the control that's bad; it's how it's implemented. The right tool for the right job. The hamburger is often used as a consistent navigation element that's the "home" for an app, always there, helping you go where you want to go. It's less effective when the items listed in it don't have a clear hierarchy, or when you need to access it frequently to accomplish your task. Sometimes the app bar, tabs, pivot, or a combination could be better controls for the job.

With our universal apps and adaptive UX we have an approach to design that lets developers build one app, but still tailor the UX to each device when it makes sense. We can use a hamburger icon without pivots on a PC version of the app for better keyboard and mouse navigation and then customize the same app to have pivots with swipe control for better one-hand-use on mobile. We're making it possible for an app to have both hamburger and pivot controls—but to display the right control at the right time on the right device."

On Commands at the bottom– "Without a doubt, the highest volume of dissatisfaction we've heard about Outlook Mail and Calendar for phones has been that people really like and really miss the Windows Phone 8 pattern of having most commands at the bottom of the screen, with an appbar that shows titles with the icons. We're happy to let you know we're not moving away from that pattern—the builds you've seen have an incomplete implementation of the "command bar" from Office and in the coming weeks you'll see most of the commands back in a familiar-but-updated control at the bottom."

On Squares vs Circles -"We've also heard that using circles to represent people doesn't reflect our overall design and feels out of sync with what we've done in the past.

I'm going to segue a bit into some of our design thinking here, but stay with me for a bit….We did a lot of thinking about this during our planning stages for Windows 10, and what we tried to accomplish was to help the people in your life really stand out visually. This is particularly important in experiences like Start, and when you're moving through different apps where there are people mixed with other content types. So for now, we're going to stick with using circles to represent people, and we hope we'll hear that you enjoy how easy it is to spot a friend when you're glancing through all the things you do on your phone."
It's a pretty good read all things considered and helps shed some light on how Microsoft  responds to user feedback.
I've said a lot on this topic already and I will have some more in the future, for now let's think Microsoft's position -post heavy feedback of course – is exactly what the platform needs to evolve.
Check out the article at the source link below and leave your comments as always.