In a post on Twitter, Joe Belfiore, the guy behind Windows, bragged about having updated the last device to Windows 10. The tweet has a picture attached in which a phone running Windows 10 mobile using the continuum feature is shown.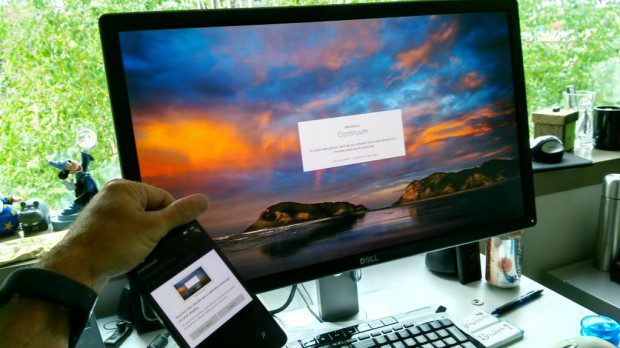 Much more interesting than that however is the phone itself. Notice the weird grasp Joe Belfiore is using covering the very top of the phone (where the latest rumored phones (Lumia 950/ 950 XL) would have their Microsoft branding and Windows Hello hardware) and the overall design. There is almost zero bezel around the black glass screen visible, something the latest mockups already had. Also the search button is way too high to be a capacitive button, making it look like in fact on-screen button are being used for the next Windows phone flagship. Additionally, the screen is all black, making an OLED screen very probable.

Belfiore already tweeted that the phone in the picture is a sample phone for engineering only with all the necessary parts build in, but the coincidence that it fits the latest rumors very well made me very suspicious and doubting that this is in fact the truth.
In related news, Joe confirmed that Continuum will need new hardware, and that it can work wirelessly (via Miracast) or tethered.
Q&A time. Yes, Continuum for phones requires new hardware. It's a high-end feature– uses dual separate screens.

— joebelfiore (@joebelfiore) July 30, 2015
Continuum for phones DOESN'T require you to carry a device to connect. It's wireless (BT/Miracast) *or* wired (eg. could have a dock).

— joebelfiore (@joebelfiore) July 30, 2015
What do our readers think?