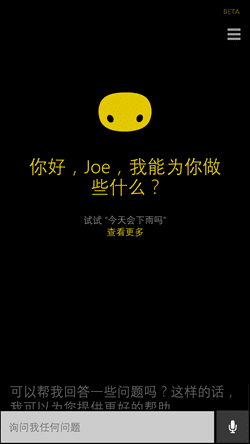 GSMDome reports that Joe Belfiore has announced the Chinese version of Cortana called Xiao Na at an event at the Conrad Hotel in Beijing last night.
Joe is quoted as saying:
"Cortana just came on stage to announce the good news of China! Cortana is the first and currently the only mobile operating system built-in personal assistant! I am very proud of the work we have done Chinese team, please give us a lot of attention and valuable comments and suggestions!"
The name was also announced on Microsoft's Weibo account as Microsoft Xiao Na.
Joe said that the work done with the Bing team on Cortana was quite specific to China, and now the company is forming a Beijing-based team to focus on China-specific work for PCs, phones and tablets.
Google Now is not available in China,
Read more about it after the break and at GSMDome here.
From Windows team blog,
The huge Chinese market has a bunch of different expectations and needs than the US or other countries—so while Cortana (nicknamed "Xiao Na") generally works the same way in China as the US and the rest of the world, China did get some "special features". As you'd expect, in her notebook, she displays what she is tracking for you, so you can see and control it. You can set reminders and quiet hours with her. She understands the whole internet so she readily helps you find anything you need. But our team in Microsoft China developed a number of additional features specifically for China. She has an alternative form which has a different visual appearance, animations, and sounds. She supports Chinese (Mandarin) in voice, text, and speech. She also has specialized suggestions tuned specifically for people living in China, like air quality information in weather cards, information about driving restrictions, and the ability to track local TV shows and celebrities. She can look up English words in the Bing Dictionary for people looking to brush up on their English.