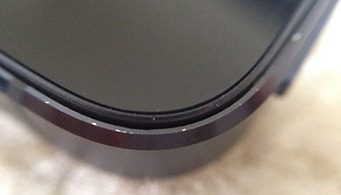 If the iPhone 5 is jewellery-like it certainly does not resemble diamonds, as it seems to be one of the easier to scratch smartphones currently being shipped.
The Daily Mail reports on many eager iPhone 5 buyers finding the device so easy to scratch it is arriving out of the box pre-scratched.
The edges of the phone are most affected, and the Black iPhone 5 the most susceptible.
The issue is being tweeted under the #Scuffgate tag and there is even a website about the issue.
Of course iPhone owners are pretty willing to swallow anything from Apple, with some saying the pre-worn appearance of the handset is a feature. What can one say, the RDF is still strong.
We do have to take issue with one sentiment which we saw on one website which I would have thought would have known better.
Redmondpie noted only minimal improvements in video quality between the iPhone 4S and 5, and wrote:
It does look as though Apple – along with most other mobile vendors – are close to hitting a plateau in terms of what can be offered to consumers. Sure, the processor, GPU, and camera can always be bumped up a notch or two – as has been the case here – but when a smartphone performs seamlessly, delivers sharp graphics and offers very high quality image and video recording, it's hard for Apple et al to deliver that "wow" factor every time.
Of course Nokia showed that there is still plenty of scope for major improvement, and that is without the resources of the richest company in the world. Just because the best improvement Apple could think of was lengthening the screen and adding a panorama feature does not mean innovation is dead in the smartphone world – it only means it is dead at Apple.