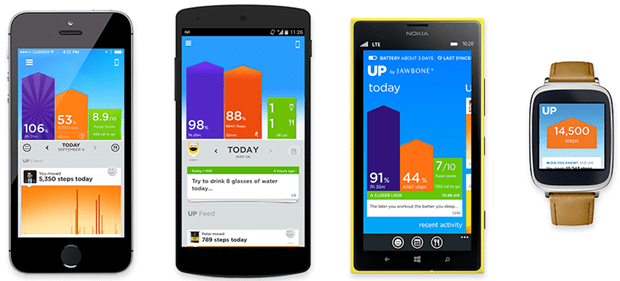 In a blog post talking about their new open API initiative Jawbone, who has confirmed they are making a Windows Phone app, also teased the design of the app.
They write:
"Later this month we are launching a new UP app that allows anyone with a compatible smartphone, Android Wear device, Pebble smartwatch, or any wearable connected to the Health app for iOS 8 – such as the Apple Watch – to instantly join the UP community. In addition to making UP more widely available, we will also release an open device-connectivity framework for the new app, enabling device manufacturers to build products that communicate directly with the UP system via an open Bluetooth Smart® or WiFi protocol."
While the post does not explicitly mention Windows Phone, it does show off the UI of the app on a Windows Phone, which shows a connection with Jawbone's Up fitness tracker.
Interestingly the global movement to flat UI has resulted in the app looking pretty Metro, even on iOS and Android, likely making it even easier for the company to support Windows Phone.
Read the full blog post here.
Via WPC