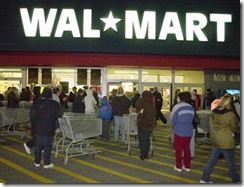 In America, it is time for Thanksgiving and family time, in the tech world it is about time for Black Friday. Black Friday is a day created by big companies to liquidate all things electronic and get you to spend as much as you can while your in their store. This year big companies are adding phones to the Black Friday list of sales, and that means discounted Windows Phones.
In my area the best deals are from Wal-Mart, Bestbuy, Target and Office Max. I was recently reading the discount list and I spotted some droids and other Windows Mobile phones I do not remember. If you are currently residing in the US and want to check out the long list of discount visit Gottadeal  and remember, happy shopping.
Warning: Last year a man was killed while trying to enter a Wal-Mart for Black Friday shopping, so be safe out there.