Microsoft has produced a video showing their integrated software plus services platform, and Windows Mobile features heavily in in.  Of course its not any version of Windows Mobile we have seen publicly released yet, but it is running on standard devices.
A LiveJournal blog, ironically named Mac-rulezzz, has taken the time to take screenshots from the video which reveals the following interesting details.
Firstly, the devices used are the HTC Touch Pro, HTC Touch HD and the T-Mobile Dash.  All three are known to me to be development devices in Microsoft, mostly running Windows Mobile 6.5, but are probably the testbeds for Windows Mobile 7 also. The Xperia X1 is also featured:      
These 6 pictures show an IM app.  More interesting than the IM app however is the large Windows Mobile 7 orb. While this implies that this is the OS that is being demoed there is no further proof either way.
This picture, which surreptitiously rick-rolls us, shows the media player interface, and again this bears a close resemblance to the Windows Mobile 7 Zune interface shots we have seen, particularly the Twist interface on top of the screen.
This picture looks to be the first look we have had at a new Windows Mobile Standard interface.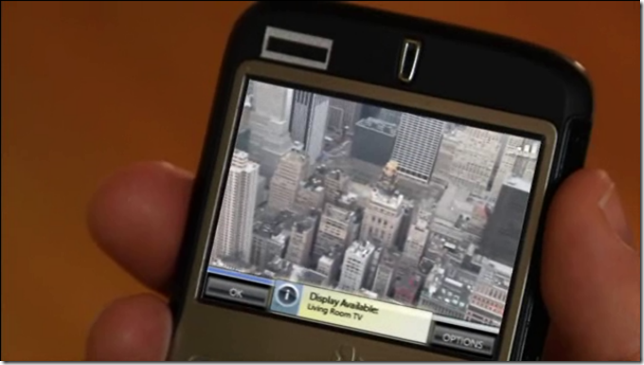 This last one shows a video streaming app running on a T-Mobile Dash.  Microsoft has mentioned this technology recently in their keynotes as part of their 3 screens vision.
See the full video below.