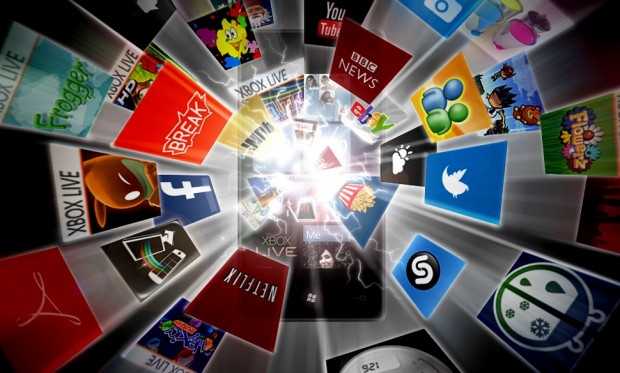 If you ask someone "on the outside" why they don't have a Windows Phone, you will most likely get the response, "because it has no apps". That certainly isn't true now that the Windows Phone store holds over 300,000 application and over 500,000 when combined with the Windows store. But what if that outsider says, "because it doesn't have the real Snapchat", or maybe the official YouTube? This might seem like a problem, but let's compare some third party and official apps and see what happens.
Snapchat vs 6snap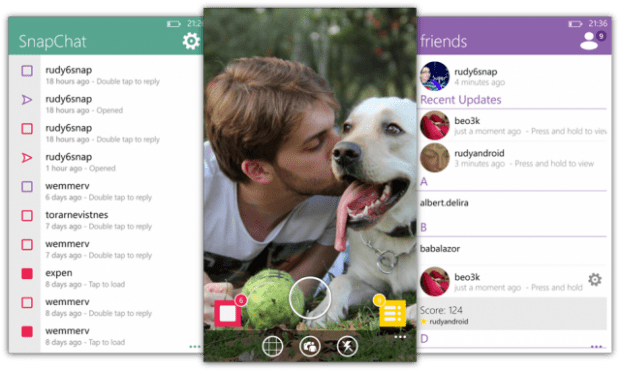 As Windows Phone users, we all know and love Rudy Huyn, the amazing developer who has helped fill the app gap tremendously with his 6Suite including 6tag, 6sec, 6tin and multiple others, and also other apps like 9gag. His Snapchat client, 6snap, is being used by almost all Windows Phone snapchatters and judging from the 4.2 rating, I would say we are pretty happy using it. The official Snapchat applications on Android and iOS have 4 and 3 star ratings (also out of 5) on each platform respectively. Apart from ratings, lets looks at what each app has to offer based on features and presentation.
[columns ]
[column size="1/2″]Snapchat
Official While this might not seem like a point to give away, being official has its' perks such as instant notifications.
New features come sooner For example Snapcash.
Smooth Definitely alot easier to swipe from page to page without accidentally taking a picture.[/column]
[column size="1/2″]6snap
Choose image from phone The ability to upload and send an image from your phone is one of the most helpful features, always nice to brag to friends about this one.
On-Screen Screenshot button This little addition to the app makes taking screenshots much easier than trying to hold the screen and hitting the 2 key combo.[/column]
[/columns]
The biggest issue with 6snap is having to wait 30 minutes to recieve notifications of new snaps, but other than that it is on par, if not better than the official Snapchat. The notifications can't be fixed from Rudy's side, therefore I will determine 6snap as the better Snapchat client.
Winner: 6snap
YouTube vs Tubecast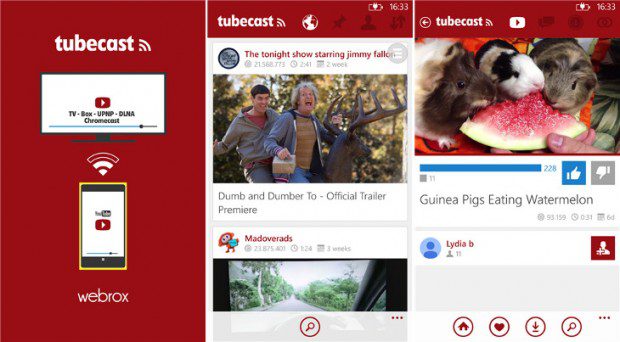 Remember back in 2013 when Windows Phone almost had an official YouTube application? It seems that Google is never going to let their apps find living space on Windows Phone but that's OK because we have some of the best third party YouTube clients available on any platform. You may have heard of Metrotube, myTube, Tubify and my personal favorite, Tubecast. All of these stand up to the official version on iOS and Android well enough, but for this comparison I will use Tubecast. Let's get to it!
[columns ]
[column size="1/3″]YouTube
Upload Videos You can upload any video on your phone directly from the application. [/column]
[column size="1/3″]Both
Ability to handle YouTube account Subscribers, comments, etc can be dealt with through both applications.
HD Streaming Both can stream in full HD.
Stream through Chromecast Stream to any device which is using Google Chromecast.
Caption Support in-video [/column]
[column size="1/3″]Tubecast
Stream to almost any Device via Apple Airplay, Google Chromecast, or DLNA.
Download videos Save videos to your phone for offline viewing.
Listen to music under lock screen Play the audio of any video even while the phone is locked.
Thumbnail Preview on Seek Bar Thumbnails to help scan to the correct point in a video [/column]
[/columns]
Tubecast is one of the newest YouTube clients on Windows Phone and it certainly does not disappoint. While uploading can be a handy feature, most users will use the app to view videos and therefore Tubecasts' ability to stream in multiple different ways puts it over the official YouTube application.
Winner: Tubecast
Dropbox vs CloudSix for Dropbox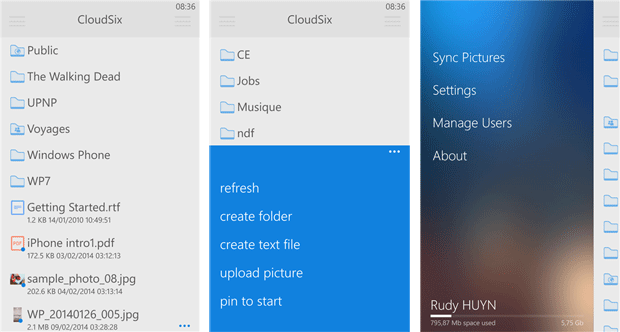 Yes, I know. The majority of Windows Phone users, including myself, use OneDrive as their main method of cloud storage, but in the case that you are moving from another platform you might want to keep your Dropbox account. In that case, look no further than CloudSix, another well made app from Rudy Huyn to help Windows Phone users. Let's compare Rudy's app with the official Dropbox app and see which comes out on top.
[columns ]
[column size="1/3″]Dropbox
Notifications Get a notification when your files are successfully uploaded[/column]
[column size="1/3″]Both
Auto Upload Automatically save photos and videos to Dropbox
Easy Share Share a link to to send files without worrying about attachment size
[/column]
[column size="1/3″]CloudSix for Dropbox
Multiple Account Support Sync all of your Dropbox accounts [/column]
[/columns]
There isn't much separating the two, which really shows what a great job Rudy did in making his Dropbox client. With that being said, I am declaring this one a tie.
Winner: Tie
---
It is obvious that Windows Phone doesn't always get the attention and support from some companies that it deserves, but luckily we have many awesome developers who help fill that gap. As a new developer, I hope to learn more in the coming months and hopefully make apps that help users in the same way that 6snap, Tubecast, CloudSix, and myriads of other apps do.
While I only compared three applications, there are multiple different apps that do very different things, but all to support Windows Phone. Please leave a comment below with other apps you would like me to compare and thoughts about third party vs official apps on Windows Phone.