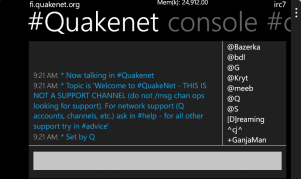 And here is another long-awaited Windows Phone 7.5 app.
IRC7 is a Windows Phone 7 IRC client for Mango handsets.  The app is not in Marketplace yet, but is set to be certified soon.
It features such niceties as smart encoding, link highlighting and multi-server support and will cost $0.99 at release, for a limited time, before increasing to $1.49, with a free trial.
Read more about this upcoming app at IRC7.org here.