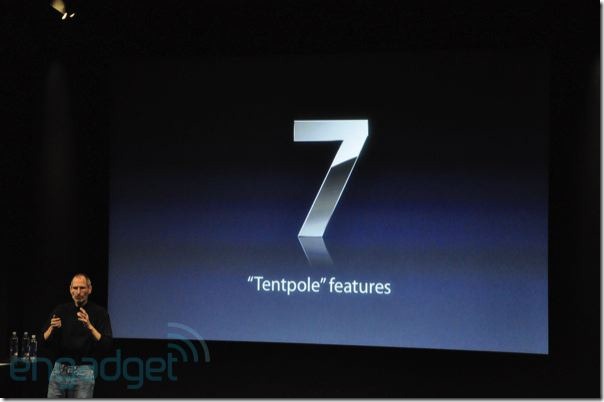 Picture via Engadget.com
Apple has just announced what's new in the latest version of iPhone OS, version 4.0. The new version of the OS brings 100 new user features, but the stand-out features include multi-tasking and a new Game centre which closely matches X-Box Live in features. Other improvements include folders for icons, background wallpaper, a unified inbox, new enterprise features and Apple's own ad network.
What is striking is how ambitious Apple's scope for the new OS is, with many features clearly aimed to silence the company's critics and provide new opportunities to increase revenue by encouraging sales of devices, apps and ads.
Of course the question arises how this is relevant to this blog.  What is very clear is that many features which Apple added are the exact features which Microsoft gave up with Windows Phone 7, basically leaving Microsoft emulating the 2007 iPhone while Apple is preparing for 2011. In short, Microsoft's great failing has been a major lack of ambition and confidence which has left them extremely vulnerable in the market.
Our advice to Microsoft – be much more bolder. Stop solving problems by imposing limitations, but rather look for creative solutions.
Do our readers feel iPhone OS 4.0 has changed the game so much Microsoft could never catch up? Let us know below.