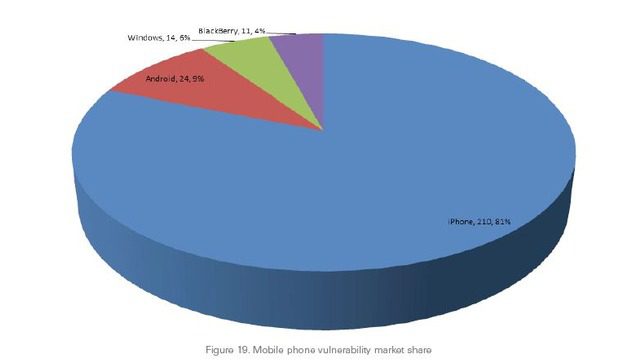 ZDNET reports that in a study by SourceFire of reported vulnerabilities in mobile operating systems, the iPhone surprisingly took the crown, with 81% of the total.
In their "25 Years of Vulnerabilities" study analyzing vulnerabilities from the Common Vulnerabilities and Exposures (CVE) data and National Vulnerability Database (NVD), they found 210 vulnerabilities in iOS, giving iOS 81 percent of the mobile phone vulnerability market share. This is more than the total number of vulnerabilities in Android-based, Windows-based and BlackBerry-based smartphones combined, at 19 percent. Windows Phone only had 14 reported vulnerabilities or 5%.
Yves Younan, senior research engineer at SourceFire's Vulnerabilities Research Team also noted Apple has had significant CVE growth year over year, despite the operating system implementing more security features in subsequent iterations.
The iPhone is a high value enterprise target at present, and Younan noted that "[Enterprises] should also plan for potential compromises including how they will rebuild and ensure the integrity of the data."
Nokia and Microsoft are both currently pushing Windows Phone 8 for enterprise, with the OS estimated to only have 0.5% of that market at present. This new study would suggest increased security as one more reason to adopt the OS.
Via ZDNET.com