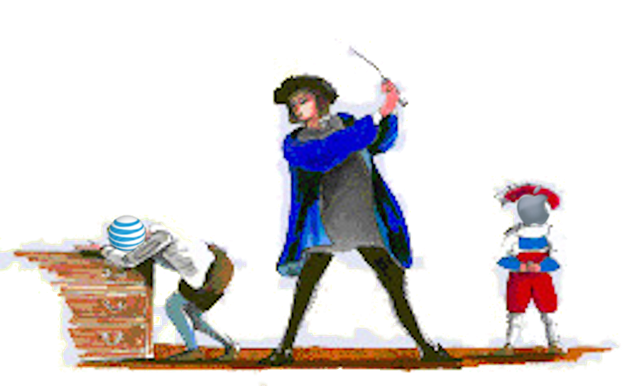 The New York Times recently ran an interesting article where they put the blame for AT&T's much ballyhooed network problems squarely in the court of Apple, not not due to handset growth and usage, but simply due to poor radio design.
According to Roger Entner, senior vice president for telecommunications research at Nielsen, the iPhone's "air interface," the electronics in the phone that connect it to the cell towers, had shortcomings that "affect both voice and data."
Despite this AT&T has done little to speak out, choosing to be the public whipping boy for Apple's poor work.
Entner says that in the eyes of the consumer, "the iPhone has the nimbus of infallibility, ergo, it's AT&T's fault." AT&T does not publicly defend itself because it will not criticize Apple under any circumstances.
Several independent tests, run on devices that are not iPhones, actually show AT&T's network to be superior to Verizon's.
Paul Carter, the president of Global Wireless Solutions, a third-party services that run network tests for the major carriers, who have covered more than three million miles of roads this year, while running almost two million wireless data sessions and placing more than three million voice calls, said:
"AT&T's data throughput is 40 to 50 percent higher than the competition, including Verizon,"
Root Wireless, who 4.7 million tests on smartphones for each of the four major carriers, spread across seven metropolitan areas: Chicago, Dallas, Los Angeles/Orange County, New York, Seattle/Tacoma, the San Francisco Bay Area, and Washington found in every market, AT&T had faster average download speeds and had signal strength of 75 percent or better more frequently than did Verizon.
Asked how this could be reconciled with AT&T's bad reputation,  Ron Dicklin, chief technology officer at Root Wireless, noted the tests were done with handsets other than the iPhone, which does not allow non-Apple programs like his to run in the background.
Ever since the iPhone's release there has been similar claims, which Apple appears to have neatly deflected, but as the iPhone's problems on AT&T becomes more obvious, it is clear if you want the best service on USA's best network, whichever network you feel that is, you are better off not choosing an iPhone at all.
What is our Windows Mobile user's experience of AT&T and Verizon?  Is AT&T really that bad and Verizon really that good?  Let us know in the comments.
Via FuzeMobility.com