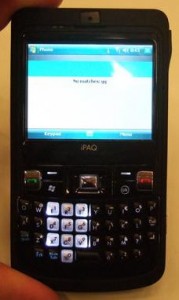 When the iPaq 914 was announced nearly a year ago the specs were certainly exciting.  Now,many months later, the HSDPA, GPS and QVGA screen resolution are just pedestrian, and the 114 X 64 X 15 mm size makes it look positive overweight.
The device, squarely aimed at business users, still has some unmatched specs.  The main one is its 1940 mAh battery. In an age of ever slimmer devices with ridiculously small batteries (Touch Diamond, with your 900 mAh battery, I am looking at you) a device with all day stamina could be very attractive indeed. The others are a very usable front facing keyboard,  the standard QVGA screen resolution that should ensure compatibility with most software, and the VOIP office integration.
The Ipaq 914, running Windows Mobile 6.1, Â will be available in Europe (the Qualcomm chipset is banned in USA) for around 600 euros, around the end of the month (we hope)
Edit: According to Brighthand a US version, the iPaq 910 will be coming to America after all, and will cost $500 unlocked directly from HP.
Read more and see more pictures at Mobinaute here.