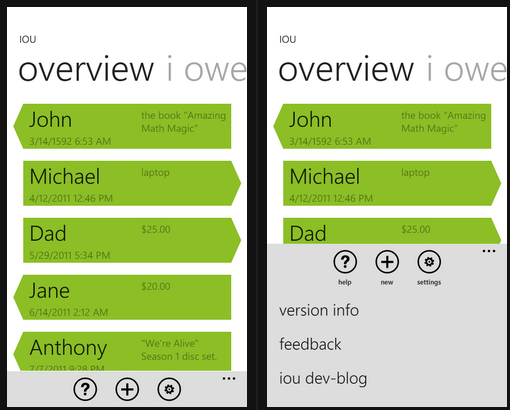 "IOU" is a new, free app, available for Windows Phone.
With IOU you can track what you've borrowed, and what others borrowed from you. The easy-to-use interface fits in with the platforms "Glance and Go" philosophy, allowing you to view most information about each loan with opening it's details.
The app is fully free, and available in the marketplace here
IOU also has its very own Developer Blog available, which contains the most up-to-date information and news regarding the development.
Features:
Keep track of all the stuff people borrowed from you, or you borrowed from them;
Keep track of both borrowed items and money;
Edit loans to keep them up to date, or to correct mistakes;
View an overview of your loans in a mixed list, as well as separate lists for what you owe others or they owe you;
"Glance and Go" design philosophy: you can see most information about a loan right there in the overview list, without having to tap it to see all of its details;
Animated page transitions for a smooth and visually-appealing interface.
Full theme-integration, using the background and accent color from your phone;
Choose one out of four different tiles to fit in with your theme.
Future updates will further improve the design, and include new functionality like setting deadlines, reminders and more!