ZAGG is one of the most popular full body consumer electronic screen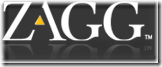 protector maker out there,  and they are back with something new and unique. The new ZAGGSking is the highly advance unscratchable invincible shield with the added customization of a skin.
This new product is set to be lunched tomorrow and will have everything that a skin should have with the protection a full body protector has.
On Friday the 20Th visit ZAGG to get yours.
Thanks For the Details