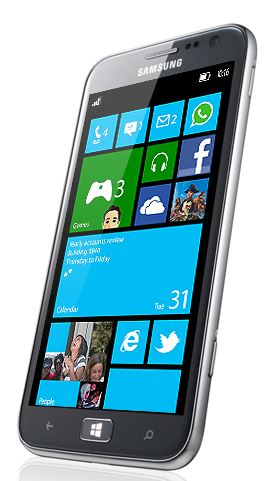 According to Korean analysts the reason Samsung's Windows Phones have been very late to the market is that carriers are intentionally being less enthusiastic about them, reports Korea Times.
"Mobile operators don't feel inclined to promote Samsung's Windows phones and obviously want a diversification of phone vendors," said HMC Securities analyst Kim Sang-pyo over the phone. "The amount of subsidies offered and product promotions by carriers are lower for Samsung's Windows lineup compared to Android phones."
According to industry sources carriers do not want Samsung to extend its dominance to another platform, and prefer to cultivate other companies like Nokia, who would be more cooperative with their demands e.g for customized phones.
"People don't buy Samsung phones because they run on Android but because it is a Samsung phone," said an industry official requesting anonymity. "Its strong brand image over rivals will guarantee better sales of Windows 8 devices if Samsung sells them."
"Samsung obviously wants to lessen its dependence on Google's Android and is considering Windows 8 as one way to maintain its growth amid the saturation of the Android platform in the market," Kim said. "Windows 8 phones have a great outlook as enterprise phones and can become a good revenue line for Samsung."
Kiwoom Securities analyst Lee Jae-yoon said the situation will change by next year, with Windows 8 seen as a third player along with Android and Apple's iOS.
"After amending some problems such as slow booting time and optimization to run Microsoft Office throughout this year, Windows 8 will sustain its growth and by next year will have a larger share of the market, especially in tablets," Lee said.
By next year, mobile operators will have to sell Windows 8 phones following market demand with the vendor likely being Samsung. Carriers will have to go along with this, he said. 
"In the domestic market, Samsung's Windows tablet has sold over 80,000 since launching last year, more than the sales of Google's Nexus 7," said Lee. "After Microsoft addresses some of the touch-intensive platform's shortcomings, it has the potential to become the leader in tablets."
The analyst said that carriers will in the end concede to pressure from Samsung Electronics, as the firm will not sit back and see any of its marketing budget, estimated at 7 trillion won last year, wasted.
Windows Phone 8 and Windows 8 is felt to be highly competitive.
"Nokia's returning to the black indicates that Windows phones are competitive products that can stand out in the market place," said Microsoft spokeswoman Lee Sung-yeon. "More and more developers are producing content for our platform and our outlook is positive."
Do our readers believe that carriers are intentionally playing a game of thrones and sabotaging Samsung's Windows Phone efforts by making Nokia the Windows Phone King? Let us know below.
Via iFans.com