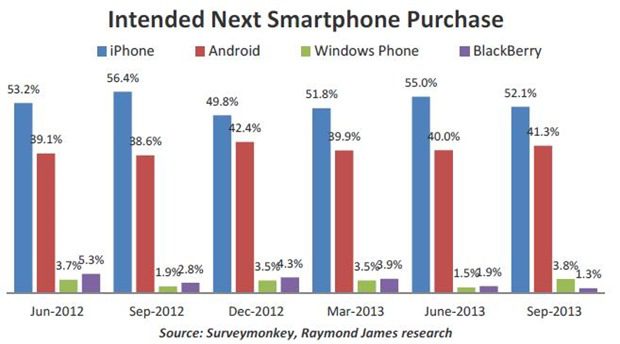 A survey by Raymond James Analysts Tavis C. McCourt and Daniel Toomey of more that 500 US residents between Sept. 16 and 17 had some good news for Windows Phone.
They found 3.8% of their respondents were intending to buy a Windows Phone, up from 1.5%  in June 2013.
The numbers, which stretch back to June 2012, appears to show a correlation with Windows Phone product launches, with numbers up in June 2012 (Nokia Lumia 900), December 2012 (Nokia Lumia 920), March 2013 (Nokia Lumia 928 ), waning in the June 2013 lull, and up again in September with the Nokia Lumia 1020 launch.
This compares with Blackberry, which showed consistent drops since the beginning of the year.
Overall however the numbers remain pretty low, another indication that Microsoft still needs to do a lot of work.
Via Valuewalk.com