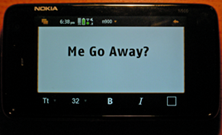 According to Digitimes Intel is finally seeing the light, and is backing off MeeGo development to create hardware instead for Android and Windows Phone 7.
MeeGo was a joint venture between Intel and Nokia which resulted in a few small tablets and the Nokia N9, but has been abandoned by Nokia in favour of Windows Phone 7, with no other OEM stepping in to rescue the OS.
While Intel has responded to the claim by saying the company will remain committed to open source and the MeeGo OS, DIgitimes insists Intel will deliver hardware products for Windows Phone 7 and Android in 2012.
The failure of the venture is likely a salient lesson in a hardware company designing an OS, an experiment which really only paid off so far for Apple.
Read more at Digitimes here.