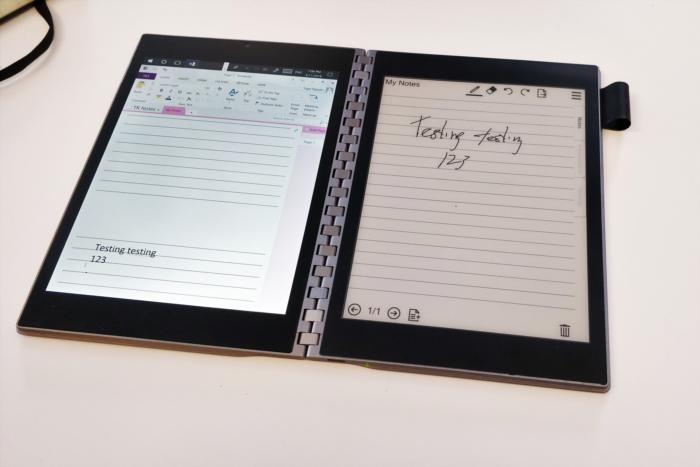 Microsoft has been trying hard to launch a dual-screen device which has the potential to be the next best thing. Now it looks like Intel is joining Microsoft in an attempt to launch a dual-screen device. This came into light when PC World took a tour into Intel's Santa Clara, California headquarters and saw the working model of a dual-screen PC.
The prototype device is codenamed Tiger Rapids and comes with two screens joined by a hinge. This is the first time Intel is admitting to having a working model of a dual-screen PC. Gregory Bryant, senior vice president and general manager of Intel's Client Computing Group explained how this new kind of PC will work.
You're going to see secondary products of different shapes and sizes, people are going to do secondary displays, obviously, we're going to work on longer-term things like bendables and foldables. It's not doing it because you can do it. It's creating these adaptable form factors that fit the work that you're trying to do.

– Gregory Bryant
The Intel's lab in Santa Clara is led by Murali Veeramoney who explained how using two screens is different from using traditional Pen and Paper.
This is a purpose-built device. There is only one single thing you can do. So the combination of a purpose-built device with a multi-function device is what we wanted to bring… That's a completely different use case. We are about performance. We will give you complete PC performance.

– Murali Veeramoney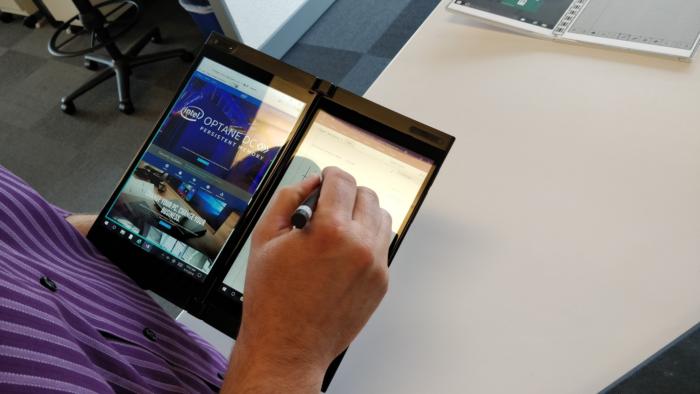 This is one area where Microsoft has been working hard with the Surface lineup so the users can have the same experience with touch screens as they have with pen and paper. Coming to the specs of the device, it runs on the latest Kaby Lake processor and has SSD for storage. Intel has also added WiFi to the device and a USB Type-C port. As for dimensions, the device has a 7.9″ LCD display and is 4.85mm thick. The right side of the screen has an electronic paper display (EPD) which consumes no power and can be used for e-inking. The prototype achieved a battery life 13 to 15 hrs which is impressive compared to other devices in the market.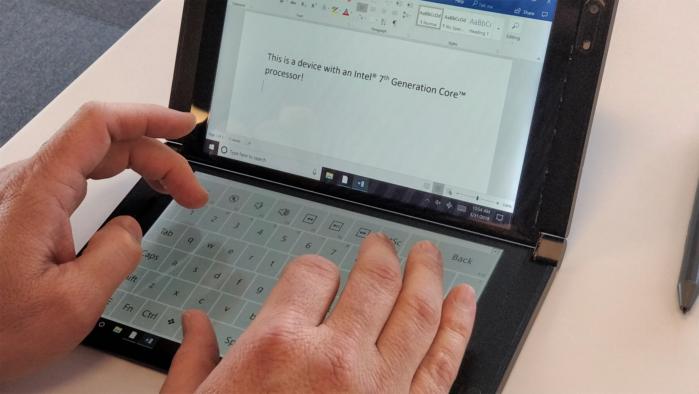 Intel, however, hasn't disclosed whether a similar device will ever make it to the market but considering the fact that it took Intel almost 3 years to build a prototype might be the reason. Also, Intel won't get credit for the device since the partners are the one who will use the design to launch their device.
What we believe we can do is start with an end in mind, and I don't mean the piece of hardware or the piece of silicon or even the PC. It's about what experience do we think is compelling, via a lot of research and a lot of end-user interviews. It's about what experience we want to deliver to market two years out or even five years out. This is us trying to inspire the ecosystem and show what's possible.

– Gregory Bryant
We aren't sure when we will see these devices in the market but they sure do look interesting. Right now, there is still a lot of R&D needed to make the device market ready.
Via: PC World