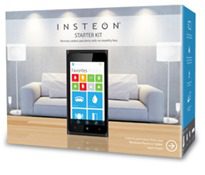 Two years ago Microsoft partnered with Insteon, long time home automation specialists, and started selling their home automation kits in the Windows Store.
Three kits are available: A Starter, Home and Business kit for $199.99, $299.99 and $499.99 respectively.
The kit lets you remotely control lights and appliances, set schedules for your devices, receive text message and email alerts and even see your home through a WiFi camera.
Unfortunately this has not translated into great support for their Windows Phone app, with their app experiencing issues on Windows Phone 8.1 and not working at all on Windows 10 Mobile.
Fortunately an update is on the way soon to address this issue, according to their support on twitter:
@lucasboling @InsteonSupport It's coming within a few days. Thanks for your patience.

— Insteon (@Insteon) July 26, 2016
Have any of our readers experienced problems with Insteon's solution? Let us know below.
Read more about the collection at Insteon here and see Insteon's app here.