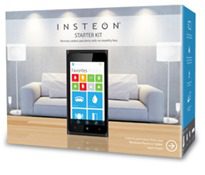 As promised a few days ago, Microsoft partner Insteon has finally updated their Windows Phone app to support Windows 10 Mobile.
Insteon's home automation kit lets you remotely control lights and appliances, set schedules for your devices, receive text message and email alerts and even see your home through a WiFi camera.
Unfortunately the app has not worked at all on Windows 10 Mobile for more than a year, and currently still lacks features and functions compared to their iOS and Android versions.
Some functionality is however much better than none, and the app currently supports:
Control your home from your Windows device
View / Control INSTEON IP Cameras (SD and HD)
Easily create schedules for lighting and devices
Instant alerts from sensors
No monthly fees
Works with the INSTEON Hub
Easy to follow onscreen wizards for fast setup
Quick status of sensors with the Quick View page
Find the updated ap in the Windows Store here.