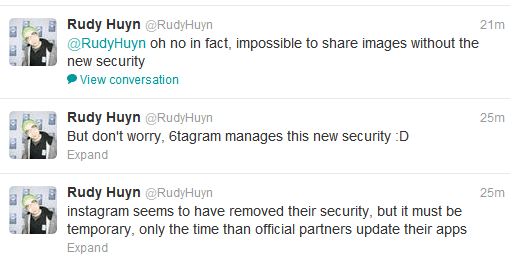 Instagram's new anti-spam measures are biting not only unauthorized 3rd party apps like Instance in the behind, but also official apps like Hipstamatic.
They have therefore dropped the measures temporarily to allow those apps to be updated, meaning Instance is working once again, for now.
Rudy Huyn, who is working on 6tagram is claiming however to have already implemented the new measures which will allow his app to continue posting to Instagram, even with the anti-spam barrier in place.
Of course the other app which will continue to work is Instagraph, which we believe runs a real version of the Android app virtualized on a server somewhere in the cloud, which means they merely have to update the app to keep working, fulfilling their old promise of being unblockable and therefore worth the fee.
In the end the whole cat and mouse game would be solved by Instragram delivering a Windows Phone app, but so far there is absolutely no indication this is on the cards anytime soon.
See Rudy's video demo after the break.