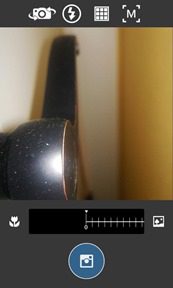 With all the excitement around 6tagram, it is easy to forget one of the pioneers and the first really polished Instagram app on Windows Phone.
Daniel Gary, the developer of Instance, has however revealed that his app has more than 330,000 users, which I estimate to be about 1% of all Windows Phone users out there, and by itself is a rather massive number.
He is continuing to work on Instance V2.0, which will support video uploading, and has posted this early look at the interface of the recording page.
The software will feature manual focus control, which should help with those really artistic Instagram pictures.
With some confusion existing whether 6tagram will really be officially blessed, with Instagram spokesmen denying all knowledge of this, it seems the race is still on for the premier Windows Phone 3rd party Instagram app, and by the numbers at the moment Instance certainly appears to be ahead.